Angela Hamel, MSPT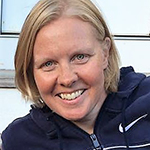 Angela has nearly two decades of experience in the field of outpatient physical therapy, receiving her B.S. and MSPT from Simmons College in Boston. She believes strongly in the utilization of her hands and manual techniques to help her patients heal, and work to improve their quality of life. Her experience has been in small, private practices in Maine and New Hampshire.
Angela utilizes a total body approach to address a wide range of orthopedic conditions. She has completed coursework in soft tissue techniques, joint mobilization, muscle energy technique, Cranio-sacral therapy, and Pilates and yoga based treatment approaches. Her background includes work with performance dancers, treating the unique imbalances that are often present in this line of work.
Angela grew up in coastal southern Maine and was happy to return back to the area after spending the majority of her career treating patients in the Portland, ME area. She enjoys hiking, cycling, live music and spending time with her family.

To learn about our team of dedicated staff members, click on their images below:


Kate Schwartz,
MS, PT

---

Angela Hamel,
MSPT

---

Moira Bradley,
PT

---

Julie LeBlanc,
PT

---

Lisa Woodman,
PT

---

Tessa Walker, BS, PTA

---

Lynn Campbell Fitch, PTA

---

Karen G. Clarke, MS, RD, LD, Office Manager

---

Deborah Miller, Clinic Administrator

---

Beverly Hanson, Clinic Administrator

---