Kate Schwartz, MS, PT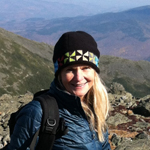 Kate graduated from the University of Utah with a BS in Biology (1982) and obtained her Master Degree in Physical Therapy (With Distinction, 1986) from Boston University, Sargent College. Her Master's research was selected by the American Physical Therapy Association for presentation at its national convention. Kate opened her private practice, Kate Schwartz Physical Therapy, LLC (KSPT) in Exeter, NH in 1994. She serves as the independent physical therapy consultant for Phillips Exeter Academy, a position she began in 1992.
A strong foundation in treating orthopedic injuries with an emphasis on the evaluation and treatment of the spine, fostered and developed Kate's focus and specialty in spine rehabilitation. Her postgraduate work includes craniosacral therapy, myofascial release, soft tissue mobilization, strain/counterstrain, trigger point work, spinal functional stabilization, muscle energy, McKenzie techniques, gait analysis, Mulligan mobilization with movement, treatment strategies for osteoporosis, postural taping and Kinesio Taping.
Kate combines manual therapy techniques, dynamic stabilization/ core strengthening, patient education and the establishment of well-rounded exercise programs with the goal of each patient returning to full function.
Kate is a competitive triathlete and a passionate downhill and telemark skiier.


To learn about our team of dedicated staff members, click on their images below:


Kate Schwartz,
MS, PT

---

Angela Hamel,
MSPT

---

Moira Bradley,
PT

---

Julie LeBlanc,
PT

---

Lisa Woodman,
PT

---

Tessa Walker, BS, PTA

---

Lynn Campbell Fitch, PTA

---

Karen G. Clarke, MS, RD, LD, Office Manager

---

Deborah Miller, Clinic Administrator

---

Beverly Hanson, Clinic Administrator

---