Beverly Hanson, Clinic Administrator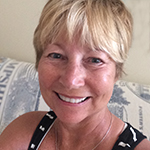 Beverly Hanson retired from the telephone company having been a human resource manager for 18 years and a right of way Manager for 6 years. She had been a past patient several times. A horse-related injury brought her back to Kate Schwartz Physical Therapy, LLC (KSPT) and she found her way to working at the front desk.
"It's said that if you love what you do, you'll never work a day in your life and that's how I feel about working at KSPT. I am working with an amazing group of talented and caring women and we have such wonderful patients coming through our doors."

To learn about our team of dedicated staff members, click on their images below:


Kate Schwartz,
MS, PT

---

Angela Hamel,
MSPT

---

Moira Bradley,
PT

---

Julie LeBlanc,
PT

---

Lisa Woodman,
PT

---

Tessa Walker, BS, PTA

---

Lynn Campbell Fitch, PTA

---

Karen G. Clarke, MS, RD, LD, Office Manager

---

Deborah Miller, Clinic Administrator

---

Beverly Hanson, Clinic Administrator

---